What makes a great throttle response controller?
There is a lot of information out there on throttle response controllers but not a lot of information regarding what sets one apart from another and how to determine which throttle response controller offers the best value for your money and the best driving experience.
Each throttle controller on the market does the same thing - allows the driver more control over the factory throttle response, which is often non-adjustable.
When it comes to the design, throttle controllers, or rather their displays which you use to cycle through different modes and settings, come in all shapes and sizes. Some are sleek, some bulky - and while it's a large part of the athletics of your car's interior, the display design has little to do with how good the 'brains' of your throttle controller are - it's the throttle mapping of each individual mode that's offered by a throttle response controller that makes all the difference in how much you're going to enjoy the product.
How do throttle controllers work?
Throttle response controllers provide new points of reference for your vehicle's throttle mapping, modifying the torque request sent to the throttle tables in your vehicle's Engine Control Unit (ECU). As a result, your throttle response can be adjusted for an enhanced or subdued feel, ultimately relieving throttle lag and allowing for complete adaptability in any situation. The best part, throttle response controllers can be installed in as little as 10 minutes as they are plug-and-play devices.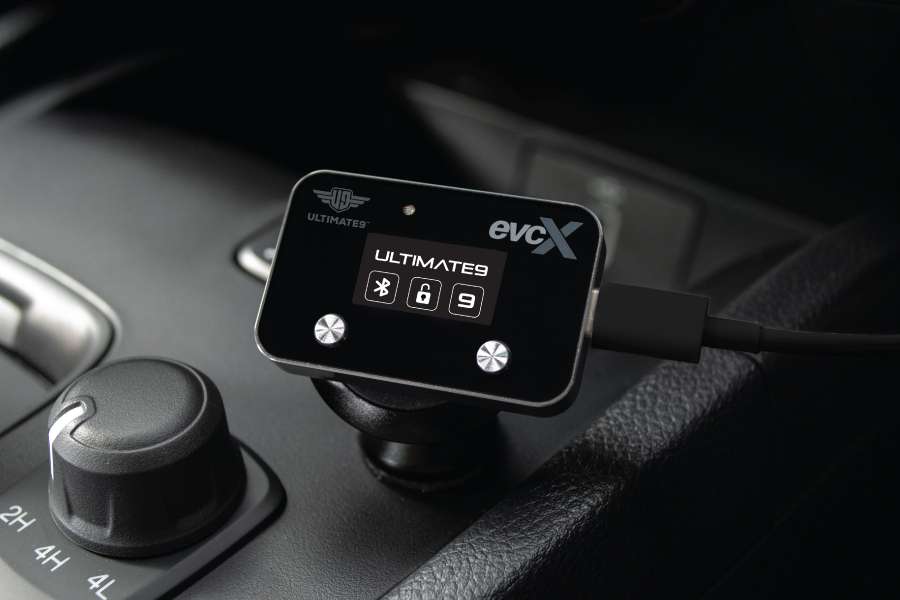 What to look for when choosing a throttle response controller?
Comes with a lifetime warranty
Throttle response controllers that come with a limited warranty should be avoided and you should never have to pay extra for an extended warranty. Controllers with a longer warranty or lifetime warranty should only be considered as it means the manufacturer is confident their product will stand the test of time & will support you should you encounter any unexpected problems throughout the lifetime of your purchase. Ultimate9 provides a lifetime warranty for its throttle response controllers and also offers comprehensive product support.
Backed by excellent customer service and support
It is important to be able to contact the company directly if you have any questions or issues, whether your preferred method of contact is via phone, email or social media, reputable brands will make it easy to make contact & respond in a timely manner. At Ultimate9, we guarantee a prompt response within 24 business hours whether you have reached out to us via social media or email. Our team is always eager to assist you with any inquiries you may have.
Money-back guarantee
Having a 30-day money-back guarantee allows you to try the unit out for yourself, risk-free, and return the unit for a full refund if you are not 100% satisfied with the product. While many throttle controller manufacturers offer this guarantee to remain competitive, it's important to check the T&Cs to ensure it's easy to claim should you dislike the product. If the Ultimate9 throttle controller fails to meet your expectations, you can contact us for an exchange or a full refund within 30 days of receiving the product.
Easy installation of the throttle response controller
All throttle controllers are plug-and-play, meaning all you need to do is unplug the vehicle's factory gas pedal, plug in the throttle controller piggyback plug, position your display to where you want it and you'll be on your way. All under 10 minutes! Ultimate9, for example, have many videos showcasing installation videos and our friendly sales team is always available to talk you through the process should you face any unexpected challenges through the installation.
Adjustable modes and settings
Throttle response controllers should allow you to either enhance or dampen your pedal response to suit any driving style, terrain or situation, whether on the highway or off the beaten track. With Ultimate9's throttle controllers, you can adjust your throttle response to achieve your ideal driving experience. Whether you want to increase or decrease the sensitivity, you can easily find the perfect setting to suit your preferences.
Frequently Asked Questions
How easy are throttle response controllers to install?
Installing Ultimate9's throttle controller range is incredibly simple and hassle-free! You won't need any tools or modifications, and it takes no more than 15 minutes to complete.
Ultimate9's plug & play product is designed with OEM specifications, meaning you just need to unplug the gas pedal's plug, secure the controller into the gas pedal, and clip the factory plug back into the top of the controller.
After fitting the controller, all you need to do is find a suitable spot on your dash to place the driver interface. That's it!
*We suggest positioning the screen so that the brightness of the LED display does not distract the driver.*
Are throttle controllers safe to use?
Throttle resposne controllers are entirely safe to use.
We prioritise safety and subject each controller to rigorous testing during development to ensure they do not interfere with any vehicle's safety features. Additionally, we conduct quality control tests on each product before packaging to guarantee optimal performance and compatibility.
Ultimate9 goes the extra mile for newly released vehicles and tests the controllers stringently before their release.
Ultimate9 throttle controllers come with a lifetime replacement warranty and a 30-day money-back guarantee, giving you the confidence and peace of mind you need when purchasing.
Can throttle controllers be used with other performance products?
Certainly! Throttle controllers make a great addition to many aftermarket performance upgrades.
Performance modifications such as ECU Tuning, Dyno Tuning, ECU Remapping, Power Chips, or ECU Reflashing focus on various factors beyond your throttle pedal response - parameters like fuel injection, ignition timing, and boost pressure. While some tuners may include pedal mapping in their services, it is usually non-adjustable.
The real advantage of throttle controllers lies in their adjustability, allowing you to have better control over the influence and effectiveness of your other performance enhancements. This is especially useful in scenarios where your Tune/Chip/Remap may be too aggressive, for instance, driving off-road or in wet conditions.
With a throttle controller, you can now subdue your throttle response, giving you enhanced control over the power delivered to your wheels.
On the other hand, if you already have sufficient power but experience lag or difficulty accessing your optimal power range, the controller can enhance your throttle response, providing you with an improved driving experience.
Are throttle controllers good for towing?
"The difference it makes in Towing is absolutely unbelievable."
- Shaun Whale (4WD 24/7 Presenter & Offroad Legend)
Throttle controllers greatly improve towing experiences by providing the ideal throttle response for any situation. Enhancing your throttle response can reduce low-down lag and drag, resulting in better take-off.
Ultimate Mode setting allows for quicker and more efficient acceleration, resulting in improved driveability while towing. On the other hand, Eco Mode allows for more control over the throttle, making it perfect for low-speed towing manoeuvres where jerking or overcorrecting can be an issue.
Why can't I just push my gas pedal harder?
The gas pedal in your vehicle operates within specific limitations that cannot be exceeded by physical force alone. The factory settings will dictate the response regardless of how hard or fast you press down on the gas pedal.
However, throttle controllers can electronically override these settings by introducing new parameters. Ultimate Mode introduces a more aggressive throttle curve, allowing for faster acceleration.
On the other hand, Eco Mode dampens the throttle response below factory settings for a more subdued acceleration. While our controllers may not increase the top-end horsepower of your vehicle, they can improve the acceleration rate, resulting in more accessible power during takeoff, whether you're starting from a stop or rolling.